Why Adaptive Asset Allocation
A fundamental axiom in finance is that the best estimate of tomorrow's value is today's value. So, that begs the question:
If current and near-term portfolio estimates are a better metric than long-term average values to make investment decisions, why not construct portfolios based on current information?
That is, why not construct a versatile portfolio that adapts over time based on observed real-time conditions? That's exactly what adaptive asset allocation is all about.
Our adaptive allocation strategy continually reflects the current market environment, systematically adapting to changing market conditions to maintain a consistent level of volatility. By maintaining a more consistent level of volatility, the strategy aims to help protect assets and keep the portfolio focused on positive returns regardless of market direction.
Our Core Investment Approach
At its core, our methodology is simple: we take an actively managed approach to investing by rebalancing more frequently than traditional asset allocation models to better align the portfolio with current market trends. Our investment model is structured to participate in a wide variety of asset classes and is enabled to quickly respond to changes in asset class risks and relationships.This gives us the flexibility to continually adapt to market changes. Here's how we break it down:
Our Portfolio Selection Process
We take a top-down, or macro approach to investing. By combining two different tactical approaches (momentum and risk parity) into one algorithm, our model builds a portfolio that responds to market conditions with the objective of simultaneously maximizing return while minimizing risk.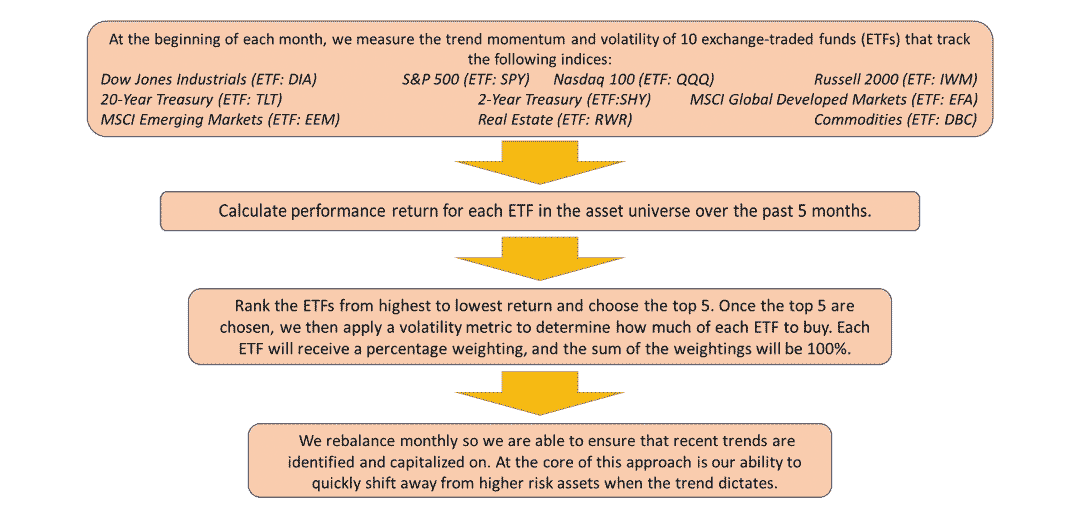 Understanding Our Process


Combining Adaptive Asset Allocation with Enhanced Risk Management
Our Investment Concept: Taking a Disciplined Market Approach to Add Value
We have found that by applying our quantitative investment methodology to the investment process we can eliminate the human emotional component and manage a nimble portfolio with a risk-adjusted return that can easily beat the benchmarks.
Our ultimate goal is to produce an intelligent long-term financial product that provides for higher-than-average returns with lower-than-average volatility – while managing tail risk (Tail risk, or 'black swan' events, are a form of portfolio risk that arises when the possibility that an investment will move more than three standard deviations from the mean is greater than what is shown by a normal distribution).
We also believe that utilizing options and our own proprietary hedging strategy we can add further value by considerably reducing our general market exposure, as well as to mitigate much of the portfolio risk during times of market stress. Here's why:
Option Leveraging: Many people mistakenly believe that options are always riskier investments than stocks. This stems from the fact that most investors do not fully understand the concept of leverage. If used properly, options can have less risk than an equivalent position in a stock or ETF. By utilizing options we have the ability use leveraged positions that actually give you a reduced cash exposure to any severe market tail risk, but maintain all the potential for gains.
Risk Hedging: By utilizing options to apply hedging strategies when the risk/reward metric gets unbalanced we can further reduce or even neutralize our tail risk, as well as protectprofits during times of severe market duress. In many cases it can also provide the added benefit of generating positive returns in a down trending market.
Back-testing Shows it Works
As the fund is new, our actual results are just revving up. However, the performance we've seen out of our extensive back-testing gives us tremendous confidence in the potential of our model:
Adaptive Allocation portfolio results from 2007 to 2018 are hypothetical. Results are based on back-testing data of the adaptive allocation model holding the top 5 best performing assets.  The model uses a single performance window of 5 months. Volatility based risk adjustments are done based on daily volatility over the past 3 calendar months.  Inverse volatility weights based on the volatility window are used to set approximated risk parity asset weights for each timing period.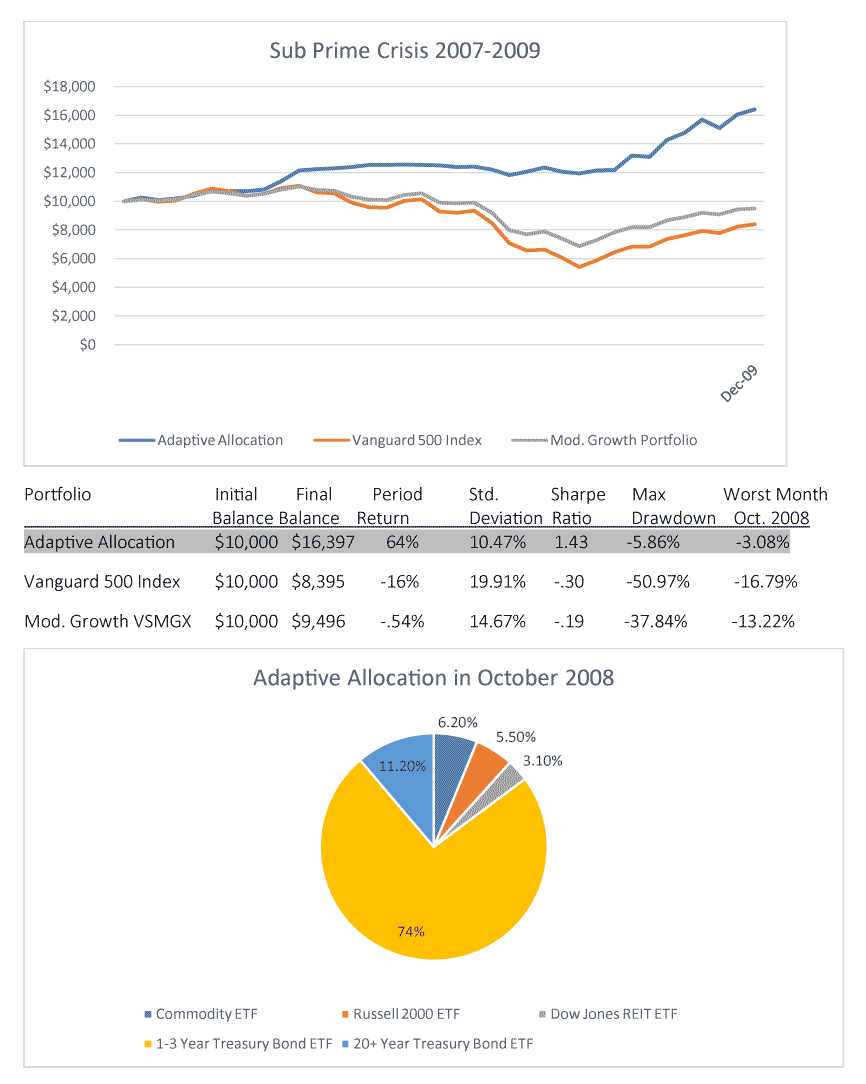 The above chart illustrates the back tested performance of the Adaptative Allocation Strategy from 1/1/2007 to 12/31/2009. comparative to the Vanguard S&P 500 index and the Vanguard Moderate Growth Portfolio Fund.  The "Period Return" is the total return of each investment during the three year period illustrated. The pie chart illustrates the asset allocation of the Adaptive Allocation portfolio during the worst performing month (October 2008) of the Sub Prime Crisis.  Back tested results do not guarantee future performance.